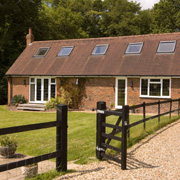 Barcroft
Barhatch Road
Cranleigh
Surrey
England
GU6 7DJ
Tel: +44 (0)1483 278609 Mobile: +44 (0) 7812 543105

We are situated adjacent to Cranleigh Golf & Leisure Club, just one mile from Cranleigh village, at the foot of the Surrey Hills, in an Area of Outstanding Natural Beauty. Guildford, Horsham and Dorking are 8 miles away.
Barcroft is a modern house set in private grounds of 5 acres. It is surrounded by beautiful trees with views up to the hills and access to endless walks and trails.
The Bed and Breakfast is run by Malene Sogaard, who originates from Denmark. Malene combines her interest in Scandinavian design and living with her love of the English countryside, to provide, not just Bed and Breakfast but an experience. A choice of English or Danish breakfast can be enjoyed at Barcroft, served with a modern twist, in a contemporary setting.
All our rooms are bright with modern light beech furniture, TV/DVD and Wireless Broadband. The beds have comfortable Scandinavian spring mattresses. The double rooms look out over the paddocks and the hills beyond. You can see our very special herd of Norwegian Fjord Horses grazing peacefully in the fields below. Barcroft is also home to a small flock of free range chickens, laying tasty eggs for you to enjoy at breakfast.