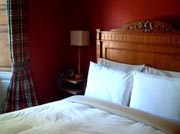 Ashtree House Hotel
9 Orr Square
Paisley
Scotland
PA1 2DL
Tel: +44 (0)141 848 6411

Ashtree House Hotel was established to provide luxurious, convenient and relaxing accommodation to businessmen and tourists visiting the Paisley and Glasgow area. Unlike many other hotels serving Glasgow International Airport and the surrounding commercial districts, Ashtree House Hotel provides a tranquil environment perfect for relaxation.
It is the management's belief that our guests deserve to stay in a unique hotel that reflects their individuality and character – and we do everything in our power to ensure that you have a pleasant and comfortable stay.
Ashtree House Hotel was originally built as a cotton or silk merchant's house around 1795 at the height of Paisley's textile boom – and its sense of space and Regency style reflects the confidence and prosperity of the age. Ashtree House has seen little alteration to the original design, and the original 200 year-old ash tree still grows in the front courtyard. There is also a beautiful walled garden and fully working fireplaces in most rooms.
The hotel offers:
* A beautiful and tranquil setting
* High quality accommodation
* Restaurant and Bed & Breakfast facilities
* The latest modern technology (including flat-screen TV and broadband in every room)
* Parking in a private tree-lined courtyard