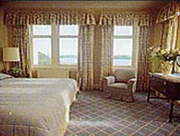 Ashford Castle
Cong
Co Mayo
Ireland

Tel: +353 (0)94 954 6003

Relax, unwind and enjoy the splendour of the renowned Ashford Castle. Appreciated by some of the worlds most famous celebrities and host to Presidents and Kings, Ashford Castle is synomonous with graceful luxury. From the dramatic approach on the shoreline of Lough Corrib to its excellent grounds, Ashford epitimises gracious living. Time stands still, luxury beckons and a personal service will ensure a reviving stay. Ashford Castle has been around for 700 years and is still appreciated by visitors from all over the world.
All guestrooms are individually designed and combine authentic, antique furniture with the personal everyday comforts you expect of a 5* hotel. High ceilings, marble fittings, luxury fabrics and comfortable furnishings match style with comfort. Suites are spacious, some with glorious lake views. They allow an abundance of time to relax in a grand manner and experience the tranquility which nature provides.
Enjoy a leisurely brunch, partake in afternoon tea in the elegant Drawing Room and treat yourself to a candlelight dinner. In high season (Summer) you can chose between two restaurants; the George V Dining Room or the Connaught Room. The elegant George V restaurant offers Irish cuising with magnificent panoramic views of the river while the Connaught Room features French cuisine in a more intimate setting.