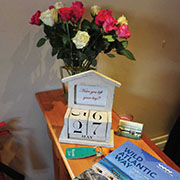 An Cruiscin Lan Hotel
Spiddal
County Galway
Ireland

Tel: +353 91 553148

An Crúiscín Lán Hotel has 14 bedrooms perfectly suited to touring groups, family gatherings, corporate groups etc. We have single, twin, double and family rooms. Our restaurant can cater for up to 80 people at any one time and we also cater for tour groups of 40/50 people, families, community groups, local businesses and sporting groups.
Ideally situated less than 10 miles from Galway Golf Club, 17 miles from Connemara Golf Club and just 16 miles from Oughterard Golf Club.
We have a large bar area, a conservatory, a beer garden and a more private cosy snug for gathering with friends.
Why not sit back and savour our delicious food in familiar surroundings. Enjoy our locally sourced fish, meat and poultry dishes, fine wines and traditional and craft beers and lagers as well as mouth watering desserts.
Enjoy dining in a relaxing, friendly setting. Choose from a creative menu of locally sourced meats, poultry and fresh Atlantic fish. These tempting dishes can be further enhanced by our extensive wine list, popular lagers and beers as well as craft beers native to Connemara. We can cater for any specific dietary requirements. We also provide an extensive range of gluten free dishes. The intimacy of the restaurant makes it an ideal venue for private bookings, functions or special occasions.
We cater for group lunches, office celebrations etc. We can also arrange a relaxed and fun evening celebration for you and a group of your friends. If you have a particular group come and talk to us about it and we can arrange the perfect celebration just for you.
Designated free parking bays are available directly outside the Hotel as well as additional parking to the rear of the property.