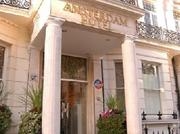 Amsterdam Hotel
7 Trebovir Road
Earls Court
London
England
SW5 9LS
Tel: +44 (0)800 279 9132
Fax: +44 (0)20 7370 5084

Built in the 1800's, The Amsterdam Hotel is 2 substantial Victorian Town Houses set over 6 floors - it has been renovated twice under the present ownership to reflect the change in facilities required by the modern guest yet retaining the buildings original features - it is small and very neatly kept.
It is situated on a quiet street just 2 minutes away from Earls Court Station - there are plenty of good restaurants, cinema and shops open till late surrounding the hotel.
Recently refurbished - all rooms with en-suite bathroom,cable TV, DD phone & tea/coffee making facilities. Decor is modern, many room/suites with wooden floors. First floor rooms & suites with small balconies. Breakfast is served in a pretty room on lower ground floor.
All rooms/suites are non smoking.
The hotel has free internet and a garden. Close by is the fashionable Knightsbridge district with Harrods, Harvey Nichols - a shoppers paradise.
Complimentary WiFi Internet access available.