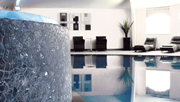 Airth Castle Hotel
Airth
Stirlingshire
Scotland
FK2 8JF
Tel: +44 (0)1324 831411
Fax: +44 (0)1324 831419

Airth Castle Hotel and Spa, part of the award-winning Aurora Hotel Collection, is one of Scotland's most exclusive retreats, nestled in beautiful parkland and gardens in the heart of Stirlingshire.
Steeped in history, the castle which dates back to the 14th century, was once owned by the family of Robert the Bruce, has been sympathetically refurbished and developed to offer the comfort, luxury and facilities that have established it as the premier hotel in the area.
This beautiful hotel provides an inspiring atmosphere for the discerning visitor. Suffused with energy, vitality and magic it is an ideal venue for a casual get together, an intimate rendezvous or simply an escape from every day life. It is also ideal for meetings and events of all kinds – both indoor & outdoor - as well as offering a magical wedding setting.
Set beneath a dramatic pyramid of glass, our Grill Room is a focal point of the hotel and is one of the few venues in the UK to feature an Inka Grill, the latest oven to take the culinary world by storm and acclaimed by world renowned chefs including Heston Blumenthal and Jamie Oliver. With dishes inspired by the grand Grill rooms of London, we use local sourced ingredients to offer our guests an inspired menu of timeless classics with a modern twist.
Contemporary elegance and modern sophistication are the hallmarks of this exquisite restaurant, with a welcoming lounge and piano bar to ponder menus or continue your post-prandial conversation. Flawless yet friendly service and hospitality. Fantastic food and drinks. Ideal whether you are dressing up or dressing down. Make every occasion a celebration at Airth Castle Hotel and Spa!
In the grounds of the luxury Airth Castle Hotel and Spa guests will also discover our luxurious spa that features six exquisite treatment rooms, relaxation areas, swimming pool, Jacuzzi, steam room and, for the more energetic, there's a fully equipped gym. Guests can enjoy a makeover, spray tan or a bespoke Spa package, customised to meet their individual needs. The therapists also have a dedicated concept for men called Man's World specialising in a wealth of treatments for men.
Set in an outstanding location, surrounded by countryside, and with unrivalled facilities and ambience, Airth Castle Hotel and Spa is the perfect venue for a get-together with family, an intimate rendezvous or a party with friends. Plus the hotel is conveniently located and easily accessible to major road networks, airports and major Scottish cities.