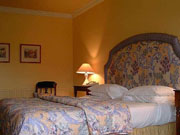 Ahernes Townhouse & Seafood Bar
163 North Main Street
Youghal
Co. Cork
Ireland

Tel: +353 (0)24 92424
Fax: +353 (0)24 93633

Ahernes is a small, luxury hotel in Youghal, Cork. A townhouse hotel and world famous seafood restaurant in the historic walled seaside resort of Youghal, on the beautiful south coast of Ireland. We aim to be "the best place to stay and eat in Ireland". Luxury accomodation and the finest seafood in the world, Aherne's has world famous reputation for its warm welcome, luxury accomodation and outstanding food.
Privately owned and run by the Fitzgibbon family for three generations, Aherne's of Youghal is on the beautiful south coast of Ireland. Within easy reach of the major cities of Cork and Waterford, airports, ferries and roads - Aherne's is the the perfect base for leisure and business.
Chef David FitzGibbon has designed a Tasting Menu bringing together the sense of tradition and history that is so important in Aherne's with the freshest of local produce including the finest fish from the day's catch in Youghal Harbour, locally reared beef, seasonal vegetables, local artisan produce and a delicious array of home baked desserts.