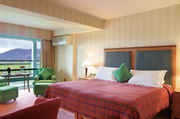 Aghadoe Heights Hotel & Spa
Lakes of Killarney
Co Kerry
Ireland

Tel: +353 (0)64 6631766

The Aghadoe Heights Hotel & Spa is a home from home for the traveling golfer. Not only is the hotel situated directly above Killarney Golf & Fishing Clubs three Championship Courses, we have also ensured that our facilities and services meet the requirements of individual golfers and golfing groups.
Our aim is to make your golfing trip to Kerry everything you hoped for and more. We know just how tough the courses can be and that's why there'll always be a friendly smile, a golfer's drying room and a cold pint of Guinness waiting for you on your return.
Nowhere compares to the scenic splendor in which Aghadoe Heights Hotel and Spa Resort is majestically located overlooking the world famous lakes and mountains of Killarney. This unique 5 star luxury hotel offers stunning features including our Aveda Spa, Fitness suite, swimming pool, extensive terrace and lounges along with stunning bedrooms & suites, all with spectacular views of the Kerry landscape, lakes and mountain range.
The Aghadoe Suite is beautifully appointed with a classically style, offering 93 square metres of unashamed luxury. Situated on the fourth floor it offers breathtaking views of Killarney Golf & Fishing Club and the lakes from its own private double balcony.
Situated on the roof top of The Spa at The Heights, The Penthouse, all 3,000 sq. ft, offers 360 degree vistas of the Lakes, mountains, Killarney and indeed Kerry when on a clear day a glimpse of Dingle Bay can be seen.
Our lakeside studio suites are truly spacious and luxurious with over 60 square metres of space and floor to ceiling windows that create a view simply like no other in Killarney.
Our garden side studio suites are truly spacious and luxurious with over 60 square metres of space and floor to ceiling windows leading to large balconies overlooking the gardens and rolling countryside.
Luxury and comfort is paramount, as is space and each of our junior suites offers 55 square metres for you to enjoy. The design blends the warmth of a country home befitting the views of our gardens and countryside beyond.
The Terrace bar opens onto a private veranda and is the perfect option for dining Alfresco, particularly on warm bright Summer days. Light dining options feature on the bar menu, all the more to be savoured when accompanied with long cool drinks or wonderful choice of world wines. Extensive cocktail list is available both here and in the Heights lounge.
Facilities to make your golfing trip more enjoyable include complimentary hotel shuttle to & from Killarney Golf & Fishing Club (with prior arrangement), drying rooms, shoe cleaning service, early morning breakfast, complimentary Tea & Coffee to take away.