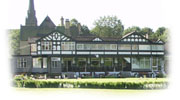 Worsley Golf Club
Stableford Avenue
Monton Green
Eccles
Manchester
M30 8AP
Tel: +44 (0)161 7894202
The club was founded in 1894 and remains the original course but for a very few changes. Though the course has had a number of top professionals play it none of them have made Worsley look easy.
The opening day of Worsley Golf Club was on the 28th April 1894 but prior to that day a meeting had been held on the 20th March 1894 and after great debate the club was named `The Worsley Golf Club' and the officials were appointed to oversee the birth of the club. The Rt. Hon. the Earl of Ellesmere was acclaimed President and five Vice President were elected one being Viscount Brackley.
Worsley proudly boast that players like Harry Vardon, Henry Cotton and Fred Daly have all played the course and went away with fond memories. On the 23rd July 1903 Harry Vardon played a 36 hole exhibition match with the club professional Alex Brown. Harry Vardon's scoreswere 71 in the morning and the afternoon round scored was 73.
Though technology has moved on in the field of club manufacture the course still stands up to the modern game from the professionals who scores are around 68. In modern times players like Dave Thomas who has designed the Belfry and Tommy Horton a senior's winner on a number of occasions have played the course and heaped praise on the layout and the challenge that it offers with out being physically tiring. Worsley is a golf course that has stood the test of time and if given the chance to play it do not turn it down. In the words of some of the regions top professionals Worsley is a gem and while playing it you would not think that you were only 7 miles from the centre of Manchester.