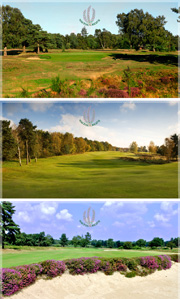 Walton Heath Golf Club
Deans Lane
Walton on the Hill
Tadworth
Surrey
KT20 7TP
Tel: +44 (0)1737 812380
Walton Heath is one of the world's most famous and prestigious clubs and the members are delighted to share the outstanding facilities with visitors from all over the world. For an immediate impression of the courses please view the photogallery.The history of Walton Heath is exceptional. The two world class championship courses have hosted nearly ninety significant amateur and professional championships and events, including five European Opens, The Ryder Cup and most recently the U.S. Open Qualifying. The world's top players have taken on and enjoyed the challenges of these two outstanding heathland courses for over a century.
The courses were designed by Herbert Fowler who was related by marriage to the founder, Sir Henry Cosmo Bonsor. The Old Course was opened for play in 1904. "It was a stroke of genius on the part of Mr Herbert Fowler to see with his prophetic eye a noble golf course on the expanse of Walton Heath", wrote Bernard Darwin. James Braid, five times Open Champion, became the first professioinal and he remained until 1950.
Walton Heath is less than 20 miles to the south of the centre of London. It is 700ft/213m above sea level, yet it is usually described as an inland links: the drainage is excellent, the turf beautifully crisp, the lies tight, the bunkers deep and encrusted with heather, and the greens firm and swift.
The Old Course plays to a championship length of 7462 yards and a par of 72. It is ranked in the world's top 100 golf courses.
The New Course shares the same heathland setting and is 7026 yards from the championship tees. The medal, ladies and daily tee settings provide a challenge to golfers of all standards. It is ranked in the UK's top 50 golf courses.
Walton Heath's fame is not confined to its courses and golfing heritage. No other club in England has been honoured with a reigning monarch as captain and included four British Prime Ministers amongst its members. King Edward VIII, Lloyd George, Bonar Law, Arthur Balfour and Winston Churchill all played their golf at Walton Heath, whose clubhouse walls and heathland turf have witnessed many a historic conversation over the years.
The current members are pleased to share this unique environment and rich heritage with guests, singly or in organised groups. Contact the club on 01737 812380 or email for more information.
"Walton Heath is one of the world's greatest courses and I send my best wishes to all who have the privilege of playing there.
Seve Ballesteros