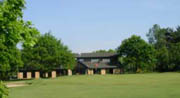 Thetford Golf Club
Brandon Road
Thetford
Norfolk
England
IP24 3NE
Tel: +44 (0)1842 752169
A challenging par 72 course set in the beautiful Breckland forest area of East Anglia. The pine, oak, and birch trees line the fairways and with an abundance of scented gorse broom and heather it really is a wonderful place to play golf.
Founded in 1912, the club has been developed into one of the finest in East Anglia. It is a challenging course of infinite variety. You can open your shoulders and let those drives rip straight down the well defined fairways.
The natural varied terrain and cunningly placed bunkers around immaculate greens will test your short game to its limits. The slick true greens characteristic of the fast draining woodland course will cost you a few shots if you do not take great care.
In 1980 a fine new clubhouse was built in the middle of the course giving players three starting holes. Meals and drinks are always available in comfortable surroundings. There is a well stocked shop which is well worth visiting to check out the extensive range of clubs, accessories and clothing for men and women. In 1988 the course was rearranged with five new holes to give a great balance of par 3, 4 and 5 holes.
Thetford Golf Club is easily reached. It is very close to the A11 Thetford bypass with fast routes from the A1, A10, A14 and M11.