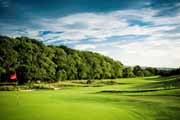 The Players Club
Codrington
Chipping Sodbury
Bristol
England
BS37 6RZ
Tel: +44 (0)1454 313029
Ranked 113th in Golf World's 2006 Second 100 sees the Codrington course at the Players Golf Club elevated straight out of your gems and onto our main English rankings. Paul originally nominated the Players Club as a gem and it was added to the site in July 2005. Here's what Paul had to say: "Very well designed modern links golf course, lots of water, rolling greens and multiple pin positions, only 3 years old will only get better."
The Players Club is certainly a big, bold and brash golf course that can play as long as an incredible 7,617 yards – with a front nine of over 4,000 yards! However, size isn't everything, as they say and six tee placements at every hole help to cater for all handicaps.
Located just off the M4 to the east of Bristol, the course opened in 2002 and it's the creation of Adrian Stiff, a local golf architect who has designed several other West Country courses, including the highly rated Cumberwell Park and The Kendleshire.
The course was constructed to a high standard, with USGA specification greens, a state of the art irrigation system and the use of over 4,000 railway sleepers to edge many of the ponds on the course. Water predominates at no fewer than 14 holes on the card and, combined with enormous, undulating greens, they give the course a very American feel.
The front nine has undergone a major alteration program, which started in 2007. A new par three 2nd hole has come into play, using the existing 3rd green and the monster, par five 8th hole has been divided into two par fours, with the first (the new 7th) a relatively short 350 yards playing to a new green and the second (the new 8th) playing to the original 8th green. To complete the golfing makeover, the par four 9th and 11th holes have been stretched a few yards longer to become par fives. The Course has stage the Sky Televised Europro on eight occasions and the West Region PGA championships four times.
A second course at the Players Club, called the Stranahan, a modest 5,500-yard par 68 layout but full of fun with heavily contoured greens. The Stranahan course in 2010 should see a return to the 3-hour round. A third 9 hole par course known as The Watergarden Course is another way of spending a fun hour if you want more than 18 holes.