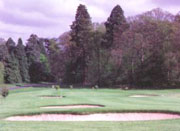 The Hirsel Golf Club
Kelso Road
Coldstream
Borders
Scotland
TD12 4NJ
Tel: +44 (0)1890 882678
The first and last course in Scotland, the home of golf, you could not wish for a friendlier or more picturesque introduction to the country or the game. The Hirsel was founded in 1948, which means it celebrated it's half century recently.
Nestling on the beautiful and historic Scottish Borders on the outskirts of Coldstream, home of the Coldstream Guards, and forms part of the ancestral estate of Lord David Douglas-Home, 15th Earl, Chief of the Clan Home, and son of past Prime Minister, Sir Alec Douglas-Home.
Whether you are a passionate golfer or not, there is something for everyone in and around The Hirsel, which means you can enjoy your golf to the full in the knowledge that your family is pleasurably occupied doing their own thing. Go on have a look! A par 70 (72 for the ladies), 6111 yard delight, to play, and to the eye. Referred to in one golfing magazine as "The Augusta of the North", it is not the easiest of courses, but then it would not be as much fun if it was. In addition, both par 5's appear in the last 7 holes, just as your energy is beginning to wane. However, with true golfing masochism, you will not be able to wait to put yourself against it's challenges again.
A parkland course of great natural beauty and breathtaking views over the Cheviot Hills and surrounding countryside, it is a must for all golfers, no matter their standard. Eighteen very different holes strategically designed to make the most of the undulations of the hills and valleys and the natural hazards presented by a very large number of majestic, mature trees, aided and abetted by the winding River Leet.
Recently voted "The Friendliest Course in the Borders" after a Tourist Board Survey, you are assured of a warm welcome from our members.