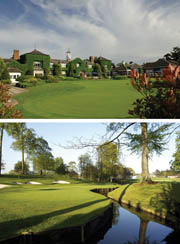 The Belfry
Lichfield Road
Wishaw
Warwickshire
England
B76 9PR
Tel: +44 (0)1675 238 600
One of the world's most famous golf destinations, a visit to The Belfry is a must for any one with a passion for the game of golf. There are three courses to enjoy. Whether you are new to the beautiful game or have been hooked for years, we have something for everyone to take pleasure from.
The Belfry is home to the Quinn Direct British Masters, and has hosted the Benson & Hedges International Open and the PGA Seniors' Championship.
Such high credentials are testimony to the quality of golf you will experience at The Belfry. It is this quality that has also led to The Belfry being chosen as home to the headquarters of the PGA of Great Britain & Ireland, the PGA of Europe, and the PGA National Training Academy.
Enjoy a break you'll never forget; with friends, simply wandering the grounds, or take a more energetic break and include some personal tuition on your driving, chipping or putting skills.