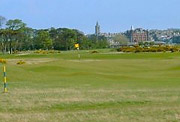 St Andrews Strathtyrum Course
St Andrews Links Trust
Pilmour House
St Andrews
Fife
Scotland
KY16 9SF
Tel: +44 (0) 1334 466666
On 1 July 1993, the Strathtyrum Course became the first new 18 hole layout to come into play at St Andrews for almost 80 years. It takes its name from the adjacent Strathtyrum Estate, from which the land was purchased.
Designed by Donald Steel to offer enjoyable golf, the course complements the tougher, championship layouts at the Home of Golf. It is shorter and, with only 15 bunkers, a relatively sand-free environment by St Andrews' usual standards. It still, however, requires a considerable level of skill if it is to be negotiated successfully.
Although few in number, the bunkers are cunningly placed and the moundings around the greens place a considerable emphasis on iron play accuracy. The greens themselves have slopes and borrows which can make taking more than the regulation two putts all too easy. With a large choice of pin locations on every hole, the Strathtyrum continues to grow in popularity every year.