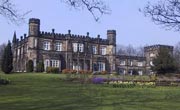 Rotherham Golf Club
Thrybergh Park
Rotherham
S65 4NU
Tel: +44 (0)1709 850466
Rotherham Golf Club is situated in Thrybergh Park, approximately three miles east of Rotherham. Thrybergh - which is mentioned in the Domesday Book - was given to William de Perci, a chief aid to William the Conqueror and founder of the great Percy family, after the Conquest in 1066.
The estate passed on to the Normainvilles around 1200 and remained with them until 1316 when Sir Adam Reresby became Lord of Thrybergh. There then followed an unbroken succession of sixteen generations of Reresbys over the next 400 years.
Folk lore has it that Reresbys took part in the battle of the Spanish Armada in 1588. A victory which the then Lord of the Manor is reputed to have commemorated by planting a large grove of chesnut trees on the estate - two of which are still standing and can be seen by the eighteenth tee. In 1814 the then owners of Thrybergh, the Fullerton family, sold a large amount of timber from the estate in order to raise money to build a magnificent new gothic residence (now the Clubhouse).
12th The Golf Club was formed in 1903 and there are few clubs in the UK that can claim such a glorious location and magnificent Club House. Surrounded by beautiful timbered parkland the course is easily accessible from the M1 or A1 in South Yorkshire.
Originally a nine hole course laid out by Sandy Herd, in 1906 it was increased to eighteen holes and was subsequently modified by James Braid. Resulting from this is an exceptionally well laid out course, where golf is played over parkland of great beauty.