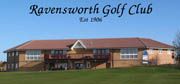 Ravensworth Golf Club
Angel View
Long Bank
Eighton Banks
Gateshead
NE9 7NE
Tel: +44 (0)191 4876014
Ravensworth golf club was founded in 1906 as a nine- hole course on land owned by and leased from Lord Ravensworth in the village of Wrekenton which lies on the outskirts of Gateshead.
In 1907 Lord Ravensworth was nominated to become our President which he duly accepted and his successors have held this honour since. In 1913 a further nine holes were added on land which later became the property of the National Coal Board.
This section of the course was purchased from British Coal in 1995. In 1998, representatives of the then current Lord Ravensworth expressed an interest in the land leased to us on which our Clubhouse stood, which they advised us that they hoped to sell for re-development.
In view of the age and condition of the clubhouse this was seen as an opportunity for us, subject to funding and planning permission, to build a new clubhouse on the land which we had purchased from the Coal Board thereby allowing us to have a clubhouse commensurate with our excellent course and avoid the necessity of expensive modernisation. Funding and planning permission took a great deal longer than expected but we were eventually able to open our new building in December 2003.
The Club which is situated on the south side of Gateshead overlooking the Angel of the North is easily accessible from the A1 and is the seventh oldest club in Durham County and one of the founder members of the Durham County Golf Union. As an 18 hole parkland course, it has a standard scratch of 69, and although it is only 5825 yards long, it never the less offers golfers of all abilities a tough and enjoyable challenge. The Club has always been renowned for its golfing excellence and since 1950 it has had 267 County and English representations. One of our present members is both past secretary and captain of the British one-armed golf society. Northern hospitality is one of the major keys to the growing success of our club and non-members will receive a welcome both on and off the course. Our Professional is always available for advice and assistance, and Peter Inness, our steward, and his staff will look after you at the 19th.