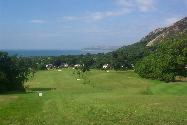 Penmaenmawr Golf Club
Conway Old Road
Penmaenmawr
Conwy
Wales
LL34 6RD
Tel: +44 (0)1492 623330
With three mountains surrounding as a back drop and the coastline in front, Penmaenmawr Golf Course (Pen golf) is as challenging in golf as it is stimulating in scenic beauty. When the view is as magnificent as seen on a balmy summers day, it is worth enduring some of the slopes on this golf course.
Penmaenmawr golf course is truly, one of the sights of the golfing world - with the Great Orme Head rising out of the sea by Llandudno and the distant outline of Anglesey and Puffin Island across the Menai Straits.
Constructed in 1910, pen golf course itself is equally magnificent. Dry stone walls bisect the fairways with devastating effect if you have an errant drive, especially on the 2nd, 7th and 16th View down the 6th tee, showing the 5th and 6th fairwaysholes. Although there is not a par 5 on the golf course, when you walk off the 5th, you'll be convinced that there are four feet in the Welsh yard!
The greens are well maintained and several of them are elevated, so it takes an experienced eye to read them and when in doubt, remember all the greens tend to slope towards the sea. Penmaenmawr Golf Club is renowned throughout the North Wales golfing community for it's friendly atmosphere. "We had been playing in the Penfold competition at Llandudno and visited the club during the time we were in North Wales. I recall the game with great fondness and also the warm and friendly welcome received. I was also impressed by the club spirit and picturesque surroundings." Peter Alliss
A short drive from Conwy off the A55, Penmaenmawr Golf Club (pengolf) is a must for any golfing enthusiast, you will be rewarded with a memorable round of golf and you will be warmly received at the 19th hole.