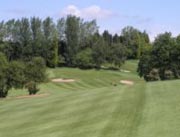 Mickleover Golf Club
Uttoxeter Road
Mickleover
Derbyshire
England
DE3 9AD
Tel: +44 (0)1332 516011
The course, although not long at a little over 5750 yards, offers a fair challange to all players, whatever their handicaps. Accurate approach play and a good short game will be rewarded but errant tee shots are suitably penalised. This is especially true on the front nine where the course is a little tighter from the tee.
In order to help visitors to the course, there are green distance marker posts on the course at a distance of one hundred and fifty yards from the centre of the greens.
The course is particularly renown for it's tough par 3's. The 2nd requires an accurate tee shot across a small valley to an elevated green. The 6th, at 161 yards, is the shortest of the holes but requires the most precise of tee shots with a bunker and trees to the left and a ditch to the right of the green. The 13th is 202 yards uphill and the 17th is guarded by large, mature trees. The course starts with a blind tee shot. Although the 1st is only short, the green is well bunkered requires an accurate approach to provide a successful start to the round. The 5th plays every bit of it's 465 yards and is gaurded by some cunningly placed bunkers. The 7th is generally considered the most attractive hole on the course yet also has a number of hazards to be overcome in particular a ditch diagonally across the fairway. The 9th has a tricky approach to the green usually from a downhill lie. The 15th requires a very accurate drive between two large trees straddling the fairway and the 16th needs an good approach to a small elevated green which has some surpisingly severe slopes.