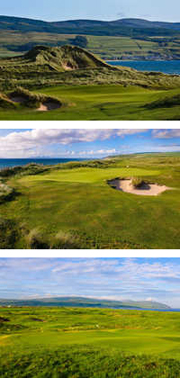 Machrihanish Dunes Golf Club
Machrihanish
Argyll
Scotland
PA28 6PT
Tel: (44) 1586 810000
Machrihanish Dunes Golf Club is the first golf course to be have been built on a Site of Special Scientific Interest (SSSi) since the days of "Old Tom" himself. It is also the first 18-hole links golf course to be built on the west coast of Scotland in 100 years.
Set hard against the shores of the Atlantic Ocean, Machrihanish Dunes shares breathtaking views with the adjacent Machrihanish Golf Club links (ranked 39th by Golf Digest's "Top 100 Courses Outside the U.S." in 2008).
True to The Way Golf Began, the site of Machrihanish Dunes links featured 23 "natural holes" (definition: a hole which fits so well into the natural landscape prior to construction that only minimal effort is required to ready it for play in terms of grading and shaping work). Course architect and Scotsman David McLay Kidd, who is internationally acclaimed for his design of Bandon Dunes in Oregon and the The Castle Course at St. Andrews, chose his 18 favourites to make up the inspired routing for Machrihanish Dunes. Measuring 7,300 yards, Machrihanish Dunes features six greens and five tees at the ocean's edge.
"We followed the lie of the land and unlike most courses around the world, we did not lay out the course and make the land change with it, we designed each hole around the natural terrain," says David McLay Kidd. "For maintenance we will do a little mowing, but will mostly rely on the wandering sheep to keep the fescue in check - just like the old courses used to do. We are returning golf to how it should be played; no longer is it a gentle walk in a garden, it will be a full-fledged mountaineering expedition at this course."
In a world with over 32,000 golf courses, the development of an authentic links course (there are only 270 in the world) on the west coast of Scotland is most unique. Machrihanish Dunes promises to be a true testament to The Way Golf Began.