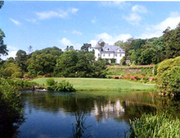 Lisselan Golf Club
Lisselan Estate
Clonakitty
County Cork
Ireland

Tel: +353 (0)23 33249
Formed in July 2004, the nine Lisselan Golf Club outside Clonakilty in West Cork meanders around the majestic Lisselan Gardens, been constructed around the natural landscape of the Lisselan estate, with untouched wooded gardens and the trout filled-Argideen River running right through the course.
Lisselan Golf Club is picturesque parkland course, though far from traditional. The course has a motorised raft and even a tram to add to transport you from green to tee. "A truly unique experience!" is what many golfers at Lisselan have proclaimed. Such novelties aside, much of the allure of Lisselan Golf Club is the scenery.
As Golf magazine described it "If Hans Christian Anderson ever built a golf course this is where he would have set it!" Lisselan Golf Club has been ranked in the "Top 10 Favourite Courses" played by Fore Magazine writers and has gained a reputation as one of the most picturesque and unique golf courses in the country.
The Lisselan Estate also offers golfers with other attractions such as the chateau-style Lisselan House, the gardens, fishing, and the Henry Ford Ancestral Site. if You Go: the Lisselan Golf Club is open to green fees and members seven days a week, from 8am – dusk.