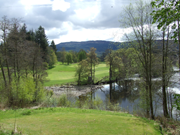 Killin Golf Club
Killin
Perth & Kinross
Scotland
FK21 8TX
Tel: +44 (0)1567 820312
A picturesque 9 hole course set in the beautiful scenery of the Perthshire Highlands. We have 2 courses at Killin, the main 9 hole course, and a wee course within it which was built with money from clubgolf for the juniors.
This "wee course" consists of 8 par 3's and a par 4, it is played from separate tees and to separate greens marked with white flags. Care should be taken when playing the 4th as the clubgolf 5th hole crosses the 4th fairway just in front of the green. The clubgolf 9th tee is level with and to the left of the white marker post on the 9th fairway.
We also have a practice area at the entrance to the club built with money from Awards for All and clubgolf. This area consists of a twin driving net and 3 holes (a combination of 5 holes can be played). This practice course is not suitable for practicing the long game, but is excellent for the short game, and even has 2 bunkers.