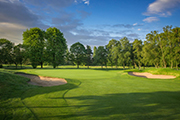 Harrogate Golf Club
Forest Lane Head
Harrogate
North Yorkshire
HG2 7TF
Tel: +44 (0)1423 862999
Established in 1892 the Club has a long history and is very well respected throughout the country. Our colonial style Clubhouse and mature parkland course provide the ideal setting for regular golf as a Member, visitor or corporate day out.
The current course measures a little less than 6250 yards and is on fairly flat terrain. Its Mackenzie style greens and tree-lined fairways are a formidable but enjoyable test for all handicaps. The condition of the course is generally first class and many of the North's largest visiting parties come back year after year.
Whilst not being a long course, the layout penalizes the golfer who strays off the fairway. Subtly placed bunkers and copses of trees require the golfer to adopt careful thought and accuracy in order to better their par on this formidable course.
Many mature trees line the fairways making the course play more difficult than its length suggests. The last six holes on the course include five par 4's of which four exceed 400 yards making this one of Yorkshire's toughest finishing stretches.