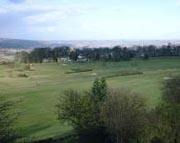 Hallamshire Golf Club
Sandygate
Sheffield
S10 4LA
Tel: +44 (0)114 2301007
At 950 feet above sea level, and overlooking the Rivelin valley, the exposed position means that there is usually a significant wind to challenge even the most experienced player. This, however is a small price to pay for the glorious views over the Pennine hills.
Springy fairways are cut through a profusion of the indigenous heather, bilberry, bracken and gorse and these combine with the finest, and slickest greens in the area to provide a magnificent test of golf for players of all abilities.
The course has been consistently modified and improved over the years and now bears little resemblance to the original 1897 layout which was criss-crossed by dry stone walls.
In the last few years, all of the bunkers on the course have been remodelled and rebuilt, tees and greens extended, and fairways redefined to provide a golfing experience combining magnificent scenery with one of the finest tests of golf in Yorkshire.