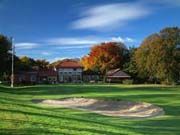 Gosforth Golf Club
Broadway East
Gosforth
Newcastle upon Tyne
England
NE3 5ER
Tel: +44 (0)191 285 3495
Gosforth Golf Club, often known as the Bridlepath, is set in 90 acres just three miles north of Newcastle upon Tyne city centre. This is an ideal setting for a high class golf course within the city limits.
First opened in 1906, Gosforth Golf Club has evolved into a course that is a pleasure to play for golfers of all abilities. The 2006 Centenary celebrations included hosting the Northumberland County Championship and the English Boys under 14s Championship.
Members and visitors alike are afforded a warm welcome in the form of a traditional clubhouse, and catering facilities.