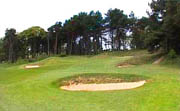 Formby Ladies' Golf Club
Golf Road
Formby
Liverpool
Merseyside
L37 1YH
Tel: +44 (0)1704 873493
The club is a successful example of a ladies club possessing its own 18 hole course. Situated close by the Irish Sea between Southport and Liverpool, the course is easily reached from the national motorway network. Visitors are most welcome and we would like to make it clear that not only ladies but also gentlemen are most welcome to play the course, with changing facilities available for both.
Formby Ladies' narrow fairways, lined with heather and its small greens guarded by well-positioned pot bunkers certainly demand that all golfers play with precision rather than rely on brute force. The course is a testament to the old adage that less is sometimes more.
By modern standards the course appears relatively short - but don't be fooled into thinking that this course is an easy target. All four par 3 holes are demanding and the 12th hole would grace any Open Championship venue. But even if your scorecard is looking grim, you can enjoy some spectacular views over the course towards the Irish Sea.
There is also a splendid contrast to be found on the Formby Ladies course, the flat landward-side holes being misleadingly straightforward in appearance, whilst the picturesque, adventurous holes lying among the sand hills and pine woods provide more obvious physical hazards which need to be avoided.