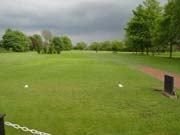 Flixton Golf Club
Church Road
Flixton
Manchester
M41 6EP
Tel: +44 (0)161 7482116
Flixton Golf Club started its career in 1893. The first ten years were spent elsewhere but in 1903 the club moved to the land on which the course is now played. Over the years extra land has been purchased, the holes changed and improved until you come to the course as it is today.
Many people set out to play a gentle nine hole parkland course thinking that this will be easy. Well... if you hit the ball straight you're part way there; if you don't there are trees, bushes and nameless other things in the very spots where you don't want them.
it could be said that position is the key to golf at Flixton. On the other hand, Flixton is one of the longest nine hole courses in the area so straightness isn't enough; if you can't hit a long ball you won't get up. The problem escalate.
In short, Flixton is a good test of golf. If you can score well at Flixton you know how to play. Indeed as you play the first three holes you can blame, at least in part, the famous George Duncan, Open Winner and Ryder Cup Captain, who helped in the design