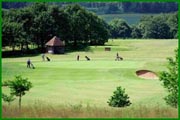 Cowdray Park Golf Club
Petworth Road
Midhurst
West Sussex
England
GU29 0BB
Tel: +44 (0)1730 812423
The Golf Course at Cowdray Park is set amongst the beautiful South Downs and forms part of The Viscount Cowdray's 16500 acre Estate. The Golf Course itself overlooks the Ruins of the old Cowdray House.
Golf was first played at Cowdray Park in 1904. The original club came into existence in 1921 and is without doubt one of the most beautiful golf courses in England. The Course offers golfers a true test of golf on a Par 70 course measuring 6265 yards. The course, which boasts the very latest in fairway irrigation and sprinkler systems together with a sandy soil, is able to maintain a superb condition even through the wettest winter. Our experienced team of greenkeepers take great pride in maintaining the course to the highest standard.
The Cowdray Park management team has prepared a range of green fee, society and user-friendly corporate options. We are experienced in organising golf days - from a group of friends to a full professional tournament - and will ensure that your individually arranged day runs smoothly and efficiently.