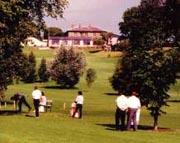 County Cavan Golf Club
Arnmore House
Drumelis
Cavan
Ireland

Tel: +353 (0)49 433 1541
Established in 1894, Co Cavan Golf Club is one of the oldest golf clubs in Ireland. The course was originally founded by Thomas Lough and designed by R.L. Murrow when the it was located at Killlynebber on the outskirts of Cavan Town.
The move to its current location in Drumelis took place in 1920 where 9 holes were in play until the course was extended to 18 holes in 1975 following the acquisition of further land from Lord Farnham. The current clubhouse is the residence of the former Dowager Lady Farnham.
The current layout is an 18-hole Par 70 parkland course which has been significantly enhanced in 2004 by the addition of a newly designed back nine with tees and greens to USGA standards under the guidance of architect Arthur Spring and European Golf Services.
Co. Cavan is well established, owner of its own course, blessed with an adequate and supportive membership and therefore properly equipped to enter into its second century with confidence and not a little pride.