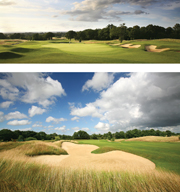 Chart Hills Golf Club
Weeks Lane
Biddenden
Ashford
Kent
England
TN27 8JX
Tel: +44 (0)1580 292222
With outstanding facilities on all fronts, Chart Hills Golf Club is the perfect venue for all occasions.
Hailed as one of the finest recently-built golf courses in England, Chart Hills is the British architectural debut of six times Major winner, Nick Faldo. Set on 200 acres of gently undulating Kentish hills, Chart Hills was officially opened for play in August 1993 and despite its relative youth in golfing terms has earned something of a reputation when it comes to hosting championship golf.
The club is recognised by the professional golfing world as one of the best venues in the country, being a European Tour qualifying school venue and previously hosting the Ladies European tour Event, The Ladies English Open (LEO).
The fantastic 18-hole golf course, recently recognised as one of the top courses in Europe by the prestigious Peugeot Golf Guide 2008-2009, and you have the recipe for success and a quality golfing experience on and off the course.
The course ranked in the top 20 in Europe in the Peugeot Guide with a rating of 18 out of 20, the second highest in the guide and is once again listed in the Top 100 Golf Course in Great Britain and Ireland for 2009.
Having left the 18th green at Chart Hills, your abiding memories are likely to include bunkers, water and greens. Offering over 130 bunkers, clever and abundant use of water hazards, and greens so fast that in the summer months, it is akin to putting on glass, Faldo has succeeded in creating a real parkland masterpiece. While the course on the whole, will certainly create a positive lasting impression, two of the signature features of the design include the long "Anaconda Bunker" on the 5th hole and the illusive island green on the short 17th hole.
If you are looking for conference and banqueting facilities, then Chart Hills also offers a variety of room choices and layouts with the Carnforth Suite, Andredsweald Restaurant, Board Room and Spikes Bar.
Completely renovated in 2007, the clubhouse is beautifully presented and provides a perfect setting for your wedding or special occasion. With a dedicated team to help you plan, amazing food, ample parking and stunning views, Chart Hills provides you with the perfect location for your event.
Whether you visit for business of pleasure, you're guaranteed to find whatever you want at Chart Hills.