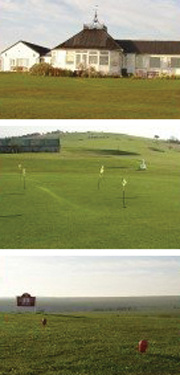 Brighton & Hove Golf Club
Devil's Dyke Road
Brighton
East Sussex
England
BN1 8YJ
Tel: +44 (0)1273 556482
Brighton & Hove is a beautiful place to play golf. Set high on the Sussex Downs, the views are incredible. The course itself offers a stiff challenge. Do not be fooled by the yardage, at just over 5,700 yards, it appears from the score card to be a relatively simple test. Nothing could be further from the truth.
Sea breezes, rolling terrain and tricky greens all combine to make the course a true test of ability. Length is required to reach some of the longer par 4's, accuracy is required to deal with the tighter holes through the valley, and a solid short game is needed to cope with the perfectly true, but tricky greens. The course really will test all aspects of your game.
Brighton & Hove is a very well established course. It is 125 years old and has a great reputation in Sussex for having excellent greens, and being in superb condition all year round. Excellent drainage due to the natural downland conditions means that we are open for play all year round.
There are some great views to be had from the course and clubhouse. You can look across the city of Brighton and Hove to the sea, and on a clear day you can see the Isle of Wight from the golf course.
Come along and see for yourelf why people have been playing here for 125 years. You are guaranteed a warm welcome.