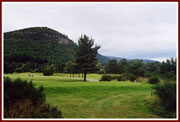 Ballater Golf Club
Victoria Road
Ballater
Aberdeenshire
Scotland
AB35 5QX
Tel: +44 (0)1339 755567
Ballater Golf Club was founded in 1892, originally as a nine hole course, on land owned by the laird of Invercauld. When farmland became available in 1905, the course was expanded to eighteen holes.
A match was staged in August 1906, between two very well known golfers, James Braid and Harry Vardon, to celebrate the construction of a pavilion and the extension of the course. This eighteen hole, slightly undulating, medium length golf course is situated in one of the most beautiful parts of Upper Deeside. Several holes lie close to the River Dee and many a ball has gone to a watery grave.
Ballater and its golf course lie within a circle of hills with glorious views, a delightful golfing experience.