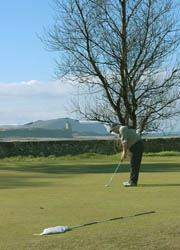 Ayr Seafield Golf Club
Bellisle Park
Doonfoot Road
Ayr
Scotland
KA7 4DU
Tel: +44 (0)1292 441258
A classic combination of links and parkland fairways that will test the skills of even the most experienced golfer. To properly challenge Seafield, accuracy from the tee is essential at every hole. The greens are tight and testing and must be approached from the proper angle to avoid playing over the greenside bunkers.
Seafield greens are famous in Ayrshire, not just for their high standard of presentation but for the fact that an unwary approach can result in a seriously damaged scorecard. The linksland part of the course was the original Seafield nine hole course that opened for play in 1904.
The convenience of the venue and quality of the greens soon led to the development of a further 9 holes and the incorporation of the magnificent adjacent parkland. A great deal of re-styling and development of the course has taken place in recent years. When this is linked to the traditional tight and deceptively testing greens and strategically placed bunkers, many a scorecard tells a torrid tale. Players are left wondering just how that putt slipped by, or how that bunker was "in play" when it looked easily carried.
When this hidden gem is played alone, or in combination with its "big sister" of Belleisle, there is no more attractive or challenging day's golf in Scotland.