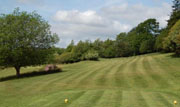 Ashdown Park Hotel & Country Club
Wych Cross
Near Forest Row
East Sussex
RH18 5JR
Tel: +44 (0)1342 824988
Ashdown Park is the perfect setting for a leisurely Golf or relaxing Spa break .
Golf courses in East Sussex can be challenging, but few are as beautiful to play as the stunning 18 hole, par 3 course at Ashdown Park. The last 9 holes are particularly attractive as they meander and wind their way through undulating woodland, which also make it a very enjoyable Sussex golf course to play.
On some holes the fairways rub up right next to the woodlands, so you may have to be prepared to lose a few more golf balls than you're used to, but don't worry, you can always replenish your supply from our shop! And if you need to warm up and get your eye in first, why not loosen up at our driving range and putting green. We can also help you sharpen your game by arranging a lesson or two for you with a golf coach.