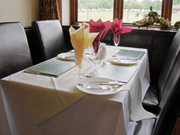 Tollgate Hotel & Leisure
Ripon Road
Blurton
Stoke on Trent
Staffordshire
England
ST3 3BS
Tel: +44 (0)1782 313 029
Fax: +44 (0)1782 593 959

Take the ten minute drive from Stoke on Trent's City Centre to the Tollgate at Blurton and you could be in for a surprise. During the 32 years since the Tollgate first opened its doors as a squash club, a great deal of work has gone into developing a leisure and hotel complex that its owners justifiably claim as having a range of facilities that are unique in North Staffordshire. The individual attention clients receive from staff is a major benefit for members and hotel guests.
Don't think that you'll have a brick wall to look at from your room window or balcony. As we are situated next to Longton Cricket Club, you can be assured of lush green views. During the cricket season (March - September) many guests love to bask in the sun with a cool drink whilst watching a cricket match. We also offer:
Accommodation for the physically disabled

Family rooms

Executive suites

Bridal suites

Hairdressing Salon on site

Fax, e-mail and photocopying service

Unwind in our comfortable bar areas, where we have an excellent choice of alcoholic and non-alcoholic drinks. There is also a mouth watering selection of meals and snacks available in the restaurant where choice dishes are made from the finest market fresh ingredients. There are usually at least three daily specials dishes to keep the palate of long term guests satisfied. If you would like to view our current menus to give you a taster of what to expect then simply visit our Restaurant page.