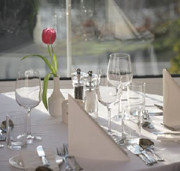 The Western Isles Hotel
Tobermory
Isle of Mull
Scotland
PA75 6PR
Tel: +44 (0)1688 302012
Fax: +44 (0)1688 302297

When you visit the Western Isles Hotel on the picturesque Isle of Mull, you're guaranteed to enjoy one of the warmest welcomes in Scotland!
Overlooking the harbour of Tobermory and facing out to Calve Island and the Sound of Mull, you'll be treated to picturesque views from our harbour- and sea-facing rooms, as well as from the Conservatory Bar.
And as well as comfortable accommodation, you'll enjoy fine cuisine in our restaurant, prepared from the best locally sourced ingredients to make your stay even more memorable.
The Western Isles Hotel offers you the perfect base for your West Coast holiday, giving you the opportunity to sample the unspoilt nature of the island, as well as the perfect base to discover more of our local community.
The Western Isles was built in 1882, and like any Grande Dame, she's seen good times and not so good times. The bedrooms are very comfortable, all are en-suite and most are very spacious. Some of the decor could be described as a wee bit tired, however we are slowly starting the massive task of redecorating. The Forth Bridge has similar challenges.
One of the best things about the hotel is that its been built around the view. So most rooms enjoy a fabulous view. Its worth remembering that Tobermory Harbour is a working harbour - ships and boats come in and out all day every day of the year.
Each bedroom is priced according to the time of year you visit, and the view that the room enjoys: Inland View; Harbour View; Sea View and Master Sea Views. Click above to see a description of a typical room of each type.
At the moment we dont have a lift, and our bedrooms are found on either the first, second or top floor. So if you would prefer not to climb 3 flights of stairs do let us know when you book. Having said that, the rooms on the top floor do have spectacular views that most folk would say is worth that little bit of extra effort.
f you're interested in good food and good wine then you need look no further than the Western Isles Hotel.
We have some of the finest suppliers of fresh fish, meat and cheese on our doorstep and we'll serve you with the minimum of fuss and bother. So whilst island life does present some challenges, and deliveries are not always regular, we will ensure that wherever possible we're using the freshest local ingredients. Occasionally this means we do run out but usually we are able to provide a reasonable alternative.