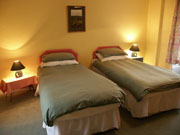 The Station Hotel
Seafield Street
Portsoy
Aberdeenshire
Scotland
AB45 2QT
Tel: +44 (0) 1261 842327
Fax: +44 (0) 1261 842975

Set on the breathtaking Grampian Coastal trail and on the banks of Loch Soy, The Station Hotel is a perfect spot to enjoy a well deserved break. Portsoy is a fascinating village, situated right on the Moray Firth Coastline in the North East of Scotland. It is steeped in history, and its 17th century old harbour claims to be the oldest natural harbour in europe. In fact every June, Portsoy hosts the famous Scottish Traditional Boats Festival. The Station Hotel has 11 comfortable en-suite rooms, plus a 3 bedroom private apartment.
The area is steeped in Scottish history and culture with interests to suit all tastes. Activities include Golf, Fishing, Bowling, and magnificent coastal walks.
The Hotel is ideally situated for Cullen Golf Course and Duff House Royal Golf Course.