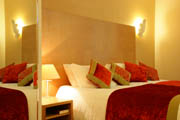 The Pinewood Hotel
Wexham Park Lane
George Green
Buckinghamshire
England
SL3 6AP
Tel: +44 (0)1753 896400
Fax: +44 (0)1753 896500

A brand new boutique hotel, the Pinewood Hotel has been designed and built from scratch with elegant interiors and a unique approach. Not forced into an old country house with the bedroom and bathroom separated by a drafty corridor. Not squeezed in between office blocks in a City thoroughfare...
But… purpose-built for business, leisure and pleasure, with a service ethic to match.
So if you want to check your email, you won't be scrabbling around behind the bed trying to find the phone point. If you want to organise a function – whether it's a wedding or a business meeting – you'll find everything is here on site...
shiny as a new pin...
as sharp as a flat-screen, LCD, hi-tech TV.
At the Pinewood Hotel even the beds are electric. You'll be able to manoeuvre yourself into a comfy position using just the controls. Switch on the flat-screen TV, call up 24-hour room service and enjoy the trappings of a brand new hotel.
There is broadband access in all of our 49 bedrooms, en-suite bathrooms and a range of rooms to suit everyone's needs – from luxurious kingsize doubles right up to the honeymoon suite. Stylish, contemporary interior design ensures a relaxed feeling throughout.
Feeling energetic? Free guest passes to our local leisure facilities are available to all resident guests, where you can go and enjoy the gym, a swim, a sauna and plenty other facilities at any time of the day.
Eden Bar and Restaurant offers temptation's that you won't be able to resist – whatever the time of day.
The menu, based around a wood-burning oven, is contemporary with Mediterranean and Eastern influences with the emphasis on fresh ingredients, natural flavours and simplicity.