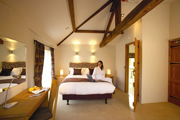 The Granary Hotel
Fawsley
Near Badby
Northants
England
NN11 3BU
Tel: +44 (0)1327 361730

Opened in 2007, the Granary is a conversion of a grade II listed farm building to a boutique residential conference centre and 10 bedroom hideaway which seamlessly blends in with the natural beauty of its surroundings
The renovation provides an eclectic mix of typical country architecture, contemporary design, modern rustic furniture and quirky details.
Situated in an historic private country estate amidst some of the most beautiful countryside in the Midlands, the sense of peace and tranquility is breathtaking.

In a really old building no room is ever the same. Although all 10 rooms are decorated in the same modern, rustic chic style, each is adourned with original contemporary paintings by Jane Atkins and Keith Morgan. Add exposed beams and quirky windows, each room has it's own sense of individuality. Sumptuous beds, Egyptian linen, soft towels and exclusive toiletries ensure the utmost of comfort during your stay.
Although steeped in rustic charm, we haven't ignored the benefits of modern living. Each of the 10 designer bedrooms are spacious, with flat screen tv's, internet connections with wireless facilities and ensuite bathrooms.
Strong, fresh coffee, finest English breakfast teas, fresh orange juice, locally sourced sausage, eggs and bacon. A fine breakfast from one of the finest bed and breakfasts in Central England.
The granary is an excellent venue for private special dining occasions. The contemporary and character-rich ambience provides a perfect setting for individual gatherings. Whether you are planning a birthday celebration, other special family occassion, or a retirement dinner, the Granary is ideal.

The Granary's private room offers a unique backdrop that, combined with efficient service and central location, makes this a perfect choice. Let our award winning chefs delight you with a superb gastronomic experience accompanied by a selection of wines from our extensive cellar.