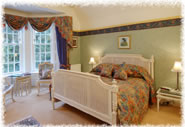 The Cairn Lodge Hotel
Orchil Road
Auchterarder
Perthshire
Scotland
PH3 1LX
Tel: +44 (0)1764 662 634
Fax: +44 (0)1764 664 866
Map/Directions
Visit our website to book direct
Email us
Customer reviews with LateRooms.com
Boutique hotel Gleneagles, Scotland - Nestled in the heart of Scotland within the renowned golfing area of Gleneagles, Ridi Stakis-Christie and her team have developed a dynamic boutique hotel. Whether it's our bespoke service, superior cuisine or the warmth of our Scottish hospitality, we trust you will find that the Cairn Lodge surpasses all of your expectations and enhances your visit to beautiful Scotland.
Resting peacefully in the historic and beautiful county of Perthshire, we are within easy reach of both the Scottish highlands and lowlands. The intimate surroundings of the lodge are perfect for romantic away breaks, weddings, anniversaries and reunions. We have finely appointed en suite rooms and will work with you and pull out all the stops to ensure your special occasions become treasured and memorable successes.
For touring parties, we offer the finest exclusive-use accommodation in Scotland. Facilities are tailored for parties of up to 22 persons, with special booking rates for parties of more than 12. There are many activities available in the locality including world-class golfing just two minutes away at Gleneagles, fishing, horse riding, falconry and antique hunts as well as days out in the historic cities of Edinburgh, Glasgow, Stirling and Perth, all activities can be organised in-house and fitted to your individual needs.
Our strong service ethic, fine rooms and local facilities means you will receive a very special experience of life and leisure in Scotland and ensures you will leave us supremely happy and relaxed. We look forward to meeting you at The Cairn Lodge and helping you enjoy your trip to Scotland while you stay.
Let The Cairn Lodge Hotel take care of everything for you, from tee times to caddies, hire of clubs, cart hire, multiple round packages, or even an early twilight game.
Our golf tours often prove to be excellent for business development meetings, particularly with overseas clients who will appreciate the culture and beauty of Scotland very readily with a few days of golf, good company and the fine surroundings of the Cairn Lodge to return to each evening.
Over many years, our exclusive use facility has developed around golf tours, where groups of 12-20 persons can hire the hotel en bloc, entrusting us to arrange an itinerary of world class golf at the best old courses during your stay. Located at the centre of Scotland, there are few better-placed hotels for your golf tour - we are less than 5 minutes from the Gleneagles course and 30 minutes from St. Andrews and Troon. Our bespoke service perfects your golf tour experience, meaning we can deliver the best of both worlds - your party will be free to enjoy the finest courses in Scotland and return to the warm exclusivity of the Cairn Lodge to relax and reflect on their golf over fine dining and a traditional single malt in front of our log fires.