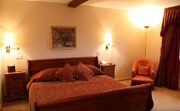 The Auberge
Ipswich Road
Yaxley
Nr Eye
Suffolk
England
IP23 8BZ
Tel: +44 (0)1379 783604

The Auberge is a small family owned and run country hotel in North Suffolk. It was once a rural public house providing simple food and drink for locals, but now, after tasteful improvements, which retain the cosiness of the historic building, it offers some of the finest food in England.
Located mid-way between Ipswich and Norwich, The Auberge is an ideal base from which to to visit and explore East Anglia. If you are discerning about your food and accomodation you will be delighted with what John and Dee Stenhouse have to offer you.
From the beginning of March we are proud to have opened our new accommodation, which takes our total to 11 rooms at The Auberge.
When staying at The Auberge you will be conveniently situated for visits to Cambridge, Newmarket, Ipswich, Norwich and the Suffolk and Norfolk coast. Diss, our local market town, is just 4 miles away.
All of our four rooms provide an excellent level of comfort. The suffolk Barn has open beams, and rich, stylish furniture. All rooms also come with host of features and amenities – a breakdown of each room can be found below. Please don't hesitate to contact us for tariff and availability.
We also have free Wi-Fi access to all guests who stay with us at The Auberge
For the comfort of our customers – all our rooms are non-smoking.
The original beamed partitions and walls, the table linen and the bowls of fresh lemons, limes and chilli that adorn each table, create the warm, intimate atmosphere of the resaurant. A small, but comfortable bar area for diners (and drinkers) awaits you as you enter The Auberge.
Delicious and interesting food, capably served is the order of each day at The Auberge. Our menu and wines are influenced by the best European cuisine including fine English fare, that makes the best use of the freshest local ingredients.