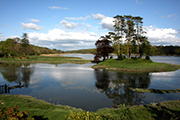 Slebech Park
Haverfordwest
Pembrokeshire
Wales
SA62 4AX
Tel: +44 (0)1437 752000
Fax: +44 (0)1437 752000

Ideally situated just 5 miles from Haverfordwest Golf Club, Slebech Park is all about relaxation, rejuvenation and excellent food.
Slebech Park estate has been an oasis of tranquility for the weary traveler for over a thousand years, from the knights of St John commandery to the present day team providing high quality accommodation and a relaxed and graceful dining experience.
The estate still bakes fresh bread daily and grows, sources and prepares local produce just like the Knights hostelry from the 12th century. One of Wale's most important historical and ecological sites, all in one place, nestled in some 600 acres on the banks of the tidal Daucleddau river estuary.
The beautiful surroundings of the Pembrokeshire National Park are here for all to explore and enjoy.
The Slebech Park Estate has 15 bedrooms situated in a Grade II 18th century Coach House built round a central courtyard. Each bedroom is unique but is decorated to a simple chic theme that is designed to promote the stunning natural beauty outside.
We are very proud of the Slebech Estate Restaurant and its growing reputation as one of the finer places to eat in Pembrokeshire, from a hearty Welsh breakfast in the morning, to a graceful dining experience in the evening, our chefs show case the very best of Welsh and locally sourced ingredients, supplemented from our Vintage kitchen garden. The dinner menu changes daily to reflect what is the best available locally and to provide a tempting choice to those that are staying for a number of nights.