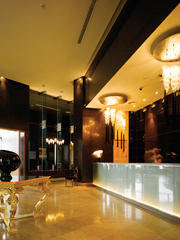 Seafield Golf & Spa Hotel
Ballymoney
Gorey
County Wexford
Ireland

Tel: +353 (0)53 9424000
Fax: +353 (0)53 9424050

Welcome to Seafield Golf & Spa Hotel. Located less than an hour drive from Dublin, Seafield Golf & Spa Hotel is a luxury retreat away from the stresses of everyday life and perfectly located for exploring the many attractions of the South East.
Nestled in the midst of 160 acres of wooded parklands with an 18 hole championship golf course and private riverside walk to the white sands of Ballymoney Beach with the dramatic backdrop of Tara Hill, Seafield is the perfect location to relax and unwind.
Get pampered and lose yourself in our exquisite Oceo Spa or enjoy a round of golf on our championship 18 hole golf course before sampling the gourmet culinary delights our restaurant has to offer.
It's all about you…
Seafield offers 102 Deluxe Bedrooms including Executive Suites with a choice of views from our 18 hole championship golf course, the picturesque Tara Hill or the stunning Sea Views of Ballymoney Beach.
You'll enjoy a restful sleep because each sensory detail has been carefully refined to be just right. As have all the added touches, from the position of your high-speed network link to the precise depth of your soaking tub. You feel thoroughly at home, and completely at your best.