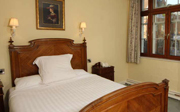 The Royal Oak Hotel
The Cross
Powys
Welshpool
Wales
SY21 7DG
Tel: +44 (0)1938 552217

The Royal Oak Hotel is situated at the heart of the small Welsh market town of Welshpool. For centuries this Grade II listed building has welcomed travellers, recently Her Majesty the Queen, through its doors to relax, whilst enjoying the beautiful Welsh countryside.
You may not arrive by horse and carriage today but you will still experience our warm, Welsh hospitality. So whether you're enjoying walking along Offas Dyke, trying out our sumptuous cuisine in the restaurant, brushing up on your country sports, need to stop over on a business trip or just exploring this 'Gateway into Wales', The Royal Oak Hotel is a perfect refuge for all travellers.
Walking up our sweeping, listed staircase you are transported away from the bustling hotel downstairs. As you make your way across the landing you're just a few steps away from entering one of our 25 en-suite bedrooms. Whether you have booked a standard, contemporary or classic room we will endeavour to make your stay with us a relaxing one.
All of our rooms are equipped with all the amenities you would expect from a three star hotel. The classic and contemporary rooms go that bit further with boutique style furnishings. Business travellers will appreciate desks and free WIFI throughout.
The Royal Oak is an ideal base for a family getaway. Our larger classic family rooms include sofa beds in addition to the master bed and we also have adjoining door rooms if you want to have a bit of privacy from your cherished ones!