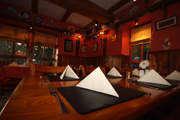 Oak Tree Inn
Balmaha
Loch Lomond
Scotland
G63 0JQ
Tel: +44 (0)1360 870 357

Take a detour from the well trodden tourist route and discover a real Scottish welcome at the Oak Tree Inn in the picturesque village of Balmaha, Loch Lomond. Situated on the quieter eastern shore of the Loch, this family owned hotel gives you the perfect base from which to explore the stunning surrounding countryside.
Standing in the shade of a magnificent 500 year old oak tree, this unique country Inn which was constructed from locally quarried slate, offers a perfect tranquil location for those wishing to escape from the rush of modern day life.
We also have frequent Special Offers and would be only too pleased to help you with any enquiry you may have about these or any of our other services.
We can also provide all year round self catering cottages.
Whether you've been driving for hours or walking or maybe just lazily taking in the beautiful surroundings, it's good to know that you can put your head down for a well earned rest in a comfortable en-suite bedroom. Each one is individually and imaginitvely decorated and all feature those most welcome of essentials like colour television and tea & coffee makers.
* All rooms have en-suite facilities
* Televisions, hairdryers, tea/coffee making facilities in all rooms
* All rooms designated 'No Smoking' areas
* No Dogs allowed
* All prices include breakfast (except where noted)
* Packed Lunches available
Constructed from a 300 year old elm tree, the bar area is an ideal spot for you to enjoy a quiet drink or indulge yourself in the stimulating atmosphere of both local and fellow travellers' company.
Combining the best of Scottish traditional cooking and unique delicacies such as Atlantic Char, we are confident our menu has something for everyone. Daily Seasonal Specials are a popular feature of our menu. Snacks, bar meals and traditional afternoon teas are also served. We were awarded Gastro Pub of the Year in 2008.