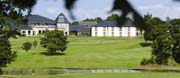 Lanhydrock Hotel & Golf Club
Lostwithiel Road
Bodmin
Cornwall
England
PL30 5AQ
Tel: +44 (0)1208 262570
Fax: +44 (0)1208 262579

Family owned, Lanhydrock has always been a favourite for business and pleasure due to it's genuine warm welcome and open hospitality...these important values have now been extended into the hotel and bistro environments.

The key to Lanhydrock Hotel Cornwall is affordable luxury and the owners have been creatively involved at all levels of it's design and build. The personal touch is the overriding ethos within the hotel and interior designers have worked closely with the owners to produce a range of relaxing interiors. This complements the surrounding course environment and the unique way it moulds into the flowing wooded valleys.

The colours, textures and furnishings have all been carefully chosen to achieve a spacious, airy and contemporary feel with some opulent and classic undertones.. all conceived to enhance your stay. As you would expect, all rooms have state of the art facilities and many benefit from beds facing out over the stunning rolling cornish country side.
In a sheltered wooded valley in Bodmin central Cornwall lies countryside of a softer hue, concealing one of the finest golf courses in the South West and Cornwall. Over the years Lanhydrock near Bodmin has been beautifully moulded into the landscape and this has produced a course that offers an enjoyable challenge to golfers of all abilities.
From the 1st hole, players are at once excited and enthralled. A short par four provides the option for a gentle lay up to the generous landing area, or do you take on the water with the opportunity of a birdie or eagle?
Only another 17 holes to entice, tease and reward.