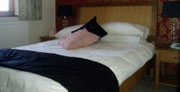 Kilverts Inn
The Bullring
Hay-on-Wye
Hereford
England
HR3 5AG
Tel: +44 (0)1497 821042
Fax: +44 (0)1497 821580

The name Kilvert's derives from Reverent Francis Kilvert who was a 19th century priest. Kilvert's diary is celebrated for his "observant, lively and sensitive descriptions of parish life". The building dates back to the Edwardian Period, starting life as a doctors house before being transformed into the inn it is today. It nestles in the very centre of Hay-on-Wye, world renowned for it's second hand book shops and a 5 minute walk will take you to any of the attractions.
The Inn is in a prime location to act as a base for browsing the many book shops, exploring the countryside or just having a relaxing break. Many outdoor activities are available for those who do not wish to visit the numerous book, antique and craft shops in the town, although it would be a shame to miss out on them, and Kilvert's can arrange everything on your behalf.
Local attractions include Rambling, Horse Riding, Golfing, Hacking, Antique & Craft Shops, Book Shops, Canoes and Kayaks on the River Wye, Fishing, Cycling and Black Mountain Activities.
Example three night break:
Day 1: Black and Whites trip – through the towns on the English/Welsh border
Day 2: Golf
Day 3: Day trip to market town of Abergavenny
Each bedroom is deigned with your comfort in mind and comes with a TV, dresser, wardrobe. A DVD player is available from reception, alongside a range of current and classic DVDs. You can request a double or twin bedded room. Complimentary mineral waters, tea with a proper pot, coffee, hot chocolate and delicious luxury biscuits are replenished daily.
Kilvert's is also building a reputation for it's live music, with Open Mic Night every Tuesday, and regular band performances, both in the bar and the gardens.
When summer comes around customers can take full advantage of the garden, which is one of the best kept secrets of Hay, 1/2 acre of lawns and flower beds that burst into bloom from Easter onwards. The stone pond is just the place to enjoy that book you've just bought with a pint of award-winning ale or glass of wine. Whilst in winter our heated flagstone terrace at the front allows drinkers and diners to watch the world go past.
We're passionate about our beer, and all our staff are trained in how to keep it in peak condition, from cellar to your glass. This has been recognized by Cask Marque, a sign of good ale in perfect condition. Kilvert's is the only premises in the town, and indeed between Hereford and Brecon, to have earnt the Cask Marque. With up to 5 handpulls, plus bottles, we're sure to have something for everyone. Our Beer festival in 2007 was the first in Hay on Wye, and next year we expect it to be bigger and better.