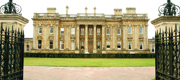 Heythrop Park Resort
Enstone
Chipping Norton
Oxfordshire
England
OX7 5UF
Tel: +44 (0)1608 673333
Fax: +44 (0)1608 673399

Heythrop Park built in the early 18th Century is steeped in history. Charles Talbot, the 12th Earl of Shrewsbury commissioned the architect Thomas Archer to create a magnificent house incorporating all the Roman influences Charles Talbot had grown so passionate about during his time in Rome.

The house passed through generations, until 1820 when it was leased to the Duke of Beaufort who used to bring his hounds from Badminton in Gloucestershire to hunt what is now Heythrop Hunt country.
Heythrop Park is now owned by Firoka Ltd, the main house has been restored to its former glory and oozes grandeur from a time gone by.
Heythrop Park is a unique combination of state of the art conference facilities within impressive historic surroundings. There are 17 luxurious bedrooms set in the main house all beautifully decorated, with panoramic views across the estate and a further 238 modern bedrooms in the wings joining the main house.
All 17 main house bedrooms are luxuriously furnished with panoramic views across the estate. En-suite bathroom, tea and coffee making facilities, direct dial telephone, trouser press, bath robes, remote control television and Wired internet access.
Experience the splendid Terrace Restaurant with magnificent views overlooking the Italian Gardens, along with its gleaming silverware, sparkling glassware and efficient service all complimenting the exquisite food. Or alternatively relax in the Charlbury bar, with a light lounge snack or enjoy pre or post dinner drinks.
The Wedgewood lounge has the perfect setting for enjoying afternoon tea, or enjoy sitting on the Terrace with a cocktail of the day.

Our highly trained Chef's offer a wealth of experience and pride themselves upon specialising in seasonal produce and utilising the best local suppliers have to offer.
The 7,156-yard, par 72 course at the Heythrop Park Resort opened in September, 2009, ten years after the idea of the Club was first mooted, but no time at all when compared to the rich history of the archetypal English estate on which it has been built.