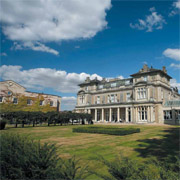 Down Hall Country House Hotel
Matching Road
Hatfield Heath
Nr Bishop's Stortford
Hertfordshire
England
CM22 7AS
Tel: +44 (0)1279 731 441
Fax: +44 (0)1279 730 416

Down Hall is one of Englands most established Country house hotels.

Situated on the Hertfordshire and Essex border, in a beautiful village named Hatfield Heath, Down Hall is surrounded by 110 acres of woodland, parkland and landscaped gardens.
On approach via a winding and impressive drive up to the hotel, you are greeted by a stunning honey coloured Italianate mansion with a beautifully decorated Romanesque façade. The front entrance of which leads into a grand interior, shows off the high ornate ceilings, natural light and picturesque views of the gardens, typically characteristic of a building of that era.

Dating back to 1322, when records show it to have had a monastery on site, Down Hall has a fascinating architectural history with different generations adding to and embellishing the building.