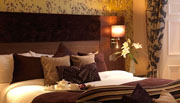 Crieff Hydro Hotel
Strathearn House
Ferntower Road
Crieff
Perthshire
PH7 3LQ
Tel: +44 (0)1764 651 670

If the golf course is your second home, you've come to the right place.
We think our course at Culcrieff Golf Club is one of the loveliest in Scotland. So much so that our members would rather we didn't advertise the fact. Not very sporting of them, is it?
But first-time player or seasoned golfer, when you play here, you'll understand. So if you're looking for a golf break in the Highlands of Scotland, you're always welcome.
At Crieff Hydro we're not fans of the phrase 'something for everyone'. But in our case, it just so happens to be true.
The folowing details apertain to our Hotel but we also offer Luxury Self Catering.
Standard Rooms:
From luxury touches to practical additions, we regularly refurbish our rooms so you can get on with the very important business of feeling completely at home.
Standard family rooms are also available and sleep either three or four, in one double bed, a single bed and a pull out bed.
Executive Rooms:
'Executive' doesn't really do justice to what's on offer. Sure there's the obligatory iron so you can look your sharpest in the Meikle Restaurant for 8pm. And there's plenty of room to spread out your complimentary newspaper.
But whether you choose a double room, studio or Leigh room, we think you'll be even more taken by the beautiful views and luxurious decor. We think you'll be pushed to find more appealing hotel accommodation in Scotland.
Signature Rooms:
In our opinion, luxury hotel accommodation doesn't get any better. It's a grand claim, but then again, our guests have been known to utter tiny gasps of delight when they open the door to one of our Signature rooms.
What makes them so special? There's some kind of interior design magic at work here - these rooms are seriously large, but still manage to feel incredibly cosy and welcoming. Of course, there's an inviting seating area, and the views are almost too good to spoil by drawing the sumptuous curtains. And don't get us started on the terrific bathrooms.
Family Rooms:
Surely all family rooms are much of a muchness? Not at Crieff Hydro.
Remove all lingering worries about lumpy sofa beds; everyone's comfy, and there's plenty of room to go around.
Our family rooms can accommodate four, five or six poeple and we've called them family, family plus and family max rooms to reflect this.
They are typically arranged around a small entrance corridor with a separate bedroom for the adults, and another room with up to three beds for the children. The other consists of two full-sized rooms with an interconnecting door. (Ideal if you have teenagers).
Alternatively, they can be adjoining rooms which have two children's beds in a separate (although not entirely separated) alcove space. Luxury family accommodation in the Scottish Highlands doesn't mean cramming more beds into a double room -not at Crieff Hydro.
So if you're looking for luxury accommodation in the Scottish Highlands for the whole family, you'll find it here.
Food and Drink:
Take your pick, we've got five quality Scottish restaurants for you to choose from - each offering something a little different.
Whether you're looking for formal dining, a relaxed, family friendly meal or a quick bite, you'll find it at one of Crieff Hydro's quality Scottish restaurants.